Apologies to Dylan Jones for the use of his inspired book title. What has been on my iTunes list this past year and (at least since October) on my iPod shuffle?

Wilco's A Ghost is Born continues to convince me of Jeff Tweedy's genius. Though the most experimental of Wilco's albums to date this album is still brimful of startlingly good melodic hooks and inspired instrumentation. It's just that none of it follows a standard song format. (No verse, chorus, verse, chorus, bridge, chorus, close here). "I'm A Wheel" has incredible drive and for some reason reminds me of trips to the Speedway at the Sydney showgrounds when I was a kid. Something to do with the sheer rock and roll energy of the thing. Anyone with enough audacity to rhyme "1, 2, 3, 4, 5, 6, 7, 8, 9" with "one time someone in Germany said 'Nein!'" and pull it off as though it makes some kind of sense has to have something going for him. In "Theologians," Tweedy sings, "Theologians, they don't know nothin' 'bout my soul." This has a tendency to put one in one's place. Then again, he goes on to sing, "I'm an ocean of emotion / I'm a cherry ghost,' so maybe theologians could tell Tweedy a thing or two.


It's good news that there is now finally an ITunes Australia store. However, for Dylan fans it's a big disappointment as there's virtually no Dylan to be had. One little gem I did discover was Dylan's cover of Jason Wade's "You Belong To Me" from the Natural Born Killers soundtrack. The vocal style and instrumentation sounds like Dylan's World Gone Wrong and Good As I Been To You but the song itself is better than most of the songs to be had on those mediocre outings. Also Dylan's cover of "I Can't Get You Off Of My Mind" from the Hank Williams tribute album Timeless is a wonderful little slice of rockabilly.

I found a CD single in an OP Shop of Tom Waits' "Make It Rain" from the 2004 album Real Gone. It's a tortured prayer from a broken heart, a desperate cry to the heavens.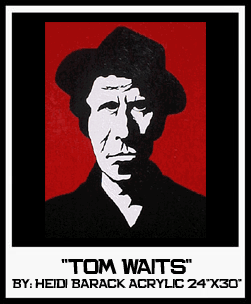 I want to believe
In the mercy of the world again
Make it rain, make it rain!
I'm not Able, I'm just Cain
Open up the heavens
Make it rain!
I'm close to heaven
Crushed at the gate
They sharpen their knives
On my mistakes
What she done, you can't give it a name
You gotta make it rain
Make it rain, yeah!
The portrait of Waits shown here is from Heidi Baracks'
Red Series
You can read an interesting review of this album by Zeth Lundy on
Pop Matters
.